It was still dark outside as I sat in my sister in laws kitchen, in Swords, north county Dublin, stuffing myself with pasta followed by banana bread and tea. On time I headed for the M50 motorway and looped around to Heuston railway station, what a great idea I thought, a nice car park in which to ready myself and my bike, car safe, and two minutes to the Haymarket and the start of the sportive.
I wasn't the only one who had that idea there were at least ten other individuals and groups who thought the same. Still there was lots of room and good banter, and the day was promised dry, a big plus. By seven thirty I was ready, checked and double checked.
I had thought about this sportive in 2016 but for some reason I never made it on the day. I determined that 2017 would be the occasion to do it.
I would as usual, make a track log of the spin, though I had already downloaded a gpx file from The Great Dublin Bike Ride web site. I like to do my own thing!!!
By seven forty I was heading down by the Croppies Acre and Ellis Quay then left toward Stoney Batter, into north King Street and Queen Street where I believed my start area would be. By seven forty five I was in position, in a loose conglomeration of riders, some in distinctive club gear, and me in my Islandeady top, I wished that there were some club members with me, maybe next year, I thought to myself, maybe Mayo people just didn't want to visit Dublin again, so soon after the latest All Ireland defeat.
Because I was on my own I had few words with those around me, now and then we moved up a bit I was definitely in the first 500 riders, I thought I would need that to finish within the time limit of 14.30 or thereabouts. I actually finished at 12.54. More on that later.
There would be 6000 riders between the 100k and the 60 k spins.
Back to the start and my cold sweat moment, that came as I looked at my back tyre well inflated to 95 PSI 23 mm Gator tyre. I noticed that there was a spot on the tyre and as you do I went to brush it off, no such luck, it was in fact a small piece of the tyre missing the white stuff was the under layer.
Panic
What to do? I had already cycled from Heuston and had no problem, how long had the nick been there, was it likely to puncture, what should I do. Do nothing a little inner voice said, get on the road, don't lose your good start position, there will be service vans along the route if anything goes wrong. You brought cash to cover a new tyre and tube if needs be, you already have two spare tubes on board. What are the chances of a sharp stone a nail or whatever hitting that exact spot. Maybe someone in front of you will hit that nail for you.
My, how you can get selfish in these situations. Within a few kilometres I had forgotten the issue.
And so at 8.09 we began to roll, a few fallers, as people juggled for positions, not racing, just unravelling the tight knit bunch start. I stuck to the left hand side, down Arran Quay and Ormond Quay. On to the Custom House and the 3 Arena, humming Leonard Cohen to myself, reminding myself of others days. Space beginning to appear, the road clear in front for a few metres, and speed 24 kph, easy spinning.
We followed the East Wall road all the way around then across the back of Fairview Park and the railway, Alfie Byrne road they call it. Memories of school days and O'Connell's schools, football in Fairview, Ben Hannigan collaring us to help him train, when he played with Shels or Rovers, I am not sure which. Anyway we were now on the Clontarf road, the R807, heading for my sisters in Bayside Sutton. I wondered if she would make it out to wave me on, I doubted. It was a long enough spin to Bayside passed it at 8.44 my speed still a comfortable 22kph.
The next turn was onto the Baldoyle road, the R809 heading towards Portmarnock, the sea shore on the right, beyond it Portmarnock golf course, I think the Irish open was played there on a few occasions, the old Baldoyle racecourse was on the left. However as Mark Twain once said, and this applies to me also, Golf is a good walk spoiled.
We were heading into Malahide, and though I had a gpx file in front of me I still wondered how we would head to Swords.
Ahhhh, so we would follow the Estuary road to Swords.
It was here that I had a strange conversation with a female cyclist. She was wearing Swords Cycling club gear so I said hello as I drew alongside.  I told her I hailed from Donabate originally. She wondered why I was wearing Islandeady gear, so I told her. Then she told me she was originally from there, imagine my further surprise when I discovered I was working on a genealogy project with her sister. 6000 cyclists and I meet talk to the person with Islandeady connections.
As we passed through Swords I reflected on my grandfather who had left the Watery Lane sometime in 1912 and took the boat to Canada. Before he left the Dublin Fruit and Vegetable Market he sold everything, except the horse, sending it home to James T McDermott, my great great Grandfather. The McDermott story is an interesting one.
We were now on the R125 heading towards Rathbeal. We turned for Roganstown Warblestown and Skidoo. 34 kilometres completed and very comfortable, very flat so far and a high average speed.
We were approaching Ballyboghil; it actually means the town of the stick, not bog hill, no bog near here, but good North County Dublin farmland. I played football here many times, and many a shemozzle occurred between the locals and our team St. Patricks from Donabate. The first hill was ahead, the Nags Head, 120 metres climb but angled nicely.
At this point I was passed by numerous "Red Groups" as we call them in Islandeady, the 30 plus kph people. Yet there were nice tidy pelotons for me to latch onto, and I did. However I was well ahead in time and energy reserves. As I continued toward Cabinhill and the next little climb, before dropping fast into the Naul. Anyone who has done the Keenagh Loop or The Windy Gap would smile at these climbs; they wouldn't even register in Mayo. Occupied since the Stone Age there have been archaeological finds that include numerous prehistoric earthworks, and the nearby megalithic chambered cairns at Fourknocks on the Meath side of the village.
Born in 1919 Seamus Ennis born in Finglas he was solely responsible for the revival of Uilleann Pipe playing on his 130 year old set of pipes. He also worked for the folklore commission collecting old songs and music. He returned to The Naul where his father had worked in 1908 and died there in October 1982. There is a lovely statue of him in the village.
This was close to half way and a major stopping point. I did not tarry here; in fact I was sorry to have spent 15 minutes here, because I lost momentum for a while. To make matters worse I had the steepest hill to climb immediately after the stop, 60 metres and sharp enough.
We were now in county Meath and would be for 14 or 15 kilometres. Out we went to Greenanstown where we turned for Anna Livia, [The personification of the River Liffey]. She is now a resident of the Croppy Memorial Park, that's near Heuston Station, I passed her on my way to the start of the ride; by the way she is a character in Finnegans Wake, James Joyce's novel. She has nothing to do with this part of the ride, I just thought of her as I turned toward Dublin, remembering that other queen, Queen Maeve as she marched on Ulster and I spent another long day in the saddle in north Meath and Louth, earlier in August.
Green fields, grass growing some cattle rearing, crops of wheat and barley, harvested now for the most part. Far from the brown bogs of Mayo, yet lacking Mayo's  variety of landscape, the mountains, the forests, even if evergreens. The rivers here are mere trickles, no gushing sounds, no frothy cascades, no rocky outcrops diverting waters this way and that.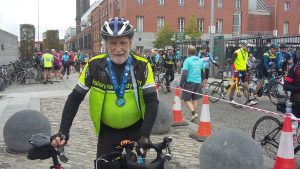 We turn again, southwards towards Ardcath, perched on its hilltop ancient church and mound, downhill to Garristown and the Dublin county border. Garristown where I was knocked out while playing a match a long long time ago. I think it was Paddy Wilson that hit me, though not deliberately, we were both going for the same ball and Paddy was at least 18 stones weight, I might have been 12 stone or so at the time.
Downhill and flat but I forgot we had another visit to Meath, skimming by Ashbourne and Rathoath, till we arrived once more in Dublin at Yellow Walls. We were now touching the fringes of the Hibernian Metropolis, but first a visit to and last stop at the National Sports Centre. Corduff, Ballycoolen, Abbotstown, these names linger about the centre. Quite impressive though I did not tarry there for very long, except to be offered a bottle of Lavender flavoured Drinking Water ugh, it tasted vile, I overhead a witty Dublin cyclist remark, "Do they think we have pillow cases with us?"
90 kilometres complete, 10 or so to go. Over the M50, Dunsink observatory away to the south west, reminded me of our Mayo Dark Skies. There are many young Dubs who have never seen the stars, reminded me of Boyle and Joxer in O'Casey's play "what is the stars, what is the stars?"
These are the ramblings that assail my mind as I cycled along, part of 6000 others but in my own mind and space. That is what endears me to cycling.
Meanwhile we are heading for Ashtown, the Tolka and Cabra, touching the North Circular, but only touching. Way down there beyond its N3 designation is Croke Park and more importantly O'Connell's Schools, my alma mater. It brings back great memories, of a great place, and giving great opportunities to people such as me.
Only a few kilometres to go and I was feeling great, once again the Garda presence was obvious, all traffic giving way to the cyclists. Now the numbers crowded again as we hurried towards the finish line. Stoney Batter once more this time towards the Liffey. A final thought on Arbour Hill cemetery were the heroes of 1916 lie, if history had rhymed another way I wondered.
The cobble stones of Smithfield hay market, where my grandfather had sold his cart were now the final moments of my 100 k bike ride. The medal ceremony was over in a flash as I walked my bike through throngs of excited cyclists. Selfies, family pictures, club photographs. I surveyed it all, still in my private world. I did wish that there were some club members there to savour the moment, maybe next year.
Perhaps a family endeavour next time round that would be a nice idea. I headed back to Heuston and met the Mullingar boys, rejoicing together in our success, and from there I hurried west across the Shannon.