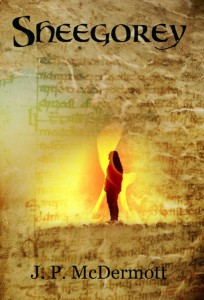 Sheegorey (Faery Hill of Guaire) now available online in hardcopy or on Kindle.
Historical novel, a captivating quest for long lost manuscripts brought to America by one of the MacDermot clan in early 17th century.
"Set around the Boyle Roscommon area, the book is a real page-turner and blends historical accuracy with extremely well-crafted fiction. A great read that will be of particular (but not exclusive) interest to Roscommon people" John Mulligan, Journalist & Author
The author, J. P. McDermott, is a poet, historian, guided walks consultant, scriptwriter & presenter of Old Port to Newport documentary (available on DVD from PurpleFoxGlove Films). He lives in Newport, Co. Mayo.
Get Sheegorey Ebook Instantly
Order Print Copy
$17.99 plus shipping and handling. Please allow ten working days for delivery.